Mirakl platform
There are many ways to develop a marketplace platform, from integrating with others to implementing your own sales system. Have a look at how Mirakl software can take your business to the next level.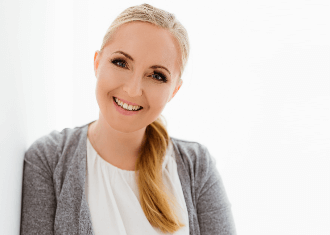 Anna Wolanin

eCommerce, Process automation

Free consultation

What is Mirakl?
When it comes to sales platforms, there are two options - create your own system or integrate with an existing one.
Mirakl is an e-Commerce platform that provides the possibility to build a company's marketplace. With Mirakl, you create a sales ecosystem that not only increases your company's profits but also improves customer satisfaction. This solution gives businesses flexibility and scalability while giving customers access to a wider range of products and services.
The Mirakl Marketplace allows you to create your own trading platform to increase online revenues, ensure future business stability by expanding product and service offerings, and increase operational efficiency by outsourcing more activities.
For more information about product display on marketplace platforms,
clicking here.

Mirakl - Benefits for the Seller
Simple and intuitive implementation
Mirakl reduces the cost and time of integrating market operations with existing e-Commerce technologies through easy deployment, ready-to-use connectors, and a flexible API for operators and sellers.
Accurate and fast product catalogue integration
With Mirakl's artificial intelligence, synchronising large volumes of product data from multiple sources is much less time-consuming. AI-based algorithms can detect syntactic similarities in product descriptions and automatically assign categories and values to an existing taxonomy, making the process of mapping data up to a thousand times faster. This, in turn, reduces the amount of work required to synchronise data.
Set up for success
As a seller, you can use a dedicated navigation panel to easily manage your key metrics and process orders within the Mirakl platform (both through an application programming interface (API) and pre-built integrations with existing e-commerce tools).

Mirakl - What are the benefits for an Operator?
Extensive customer support
As an operator, you can provide sellers with advanced rules and shipping features that improve the customer experience. You can set up business rules that automatically prioritise the best-performing sellers while warning or suspending those who do not meet expectations.
With access to advanced tools, business rules and automation, you can reduce the risks associated with catalogue management, optimise financial flow and reduce workload without losing control over processes.
Quick onboarding of sellers
Using the tools offered by Mirakl and out-of-the-box connectors, e.g., SPS Commerce, it is possible to quickly onboard suppliers and integrate their product catalogues while using fewer resources. The configurable ordering and payment processes enable the automation of supplier management, and this results in efficient operations and time savings. It simplifies supplier management and automates order and payment processes. This platform provides a possibility to easier set up and monitor accounts. With Mirakl, it is also possible to control access to features and settings to suit your preferences.
Simplified price management process
Thanks to the price validation rules, operators have control over price margins and can increase profitability. These rules allow for effectively optimising margins and managing profitability by monitoring and controlling product prices. This gives operators full control over pricing policy.
Customer experience control
With the possibility to preview orders in real-time, and to automatically alert and delete suspicious transactions, you can effectively prevent poor performance and stay in control of the customer experience. An advanced incident management system facilitates seamless collaboration with suppliers to resolve issues and provide an optimal customer experience.
As a result, it is possible to react quickly to situations and effectively manage incidents, which translates into better results and maintains high-quality customer service.
Wondering how to integrate different systems into one marketplace?
Find out how we carried out integrations with Mirakl for Black Red White Group.

Mirakl – what features does it offer?
Thanks to its various functionalities, the Mirakl platform facilitates the creation and management of the e-commerce market. These are i.a.:
Product catalogue management


Mirakl provides tools that allow users to manage their product catalogues with ease. They can add new ones, update an existing listing, and manage attributes. With Mirakl synchronising assortments across various sellers on the marketplace is a breeze, as it ensures uniformity in product information and offering.


Building e-Commerce markets


With Mirakl, companies can quickly create their e-Commerce marketplaces, where other companies can sell their products. This allows growing their business online and making more profit.


Managing orders and payments


Mirakl allows users to efficiently and intuitively manage orders and payments through dedicated tools. They can monitor and direct orders, as well as track transactions and returns. The operator can set billing cycles and has a system for monitoring the flow of money. With Mirakl, users can efficiently manage orders from various suppliers in one place. This enables monitoring, tracking, and coordinating a seamless order execution processes.


Transaction management


Mirakl allows users to process transactions quickly through the platform. It allows one to safely buy and sell products on the e-commerce market. The operator, in turn, can monitor the entire transaction or block it if there are any problems with the seller.


Process automation


Thanks to the possibility to automate a wide range of processes, users will be able to save time and increase the efficiency of their business.


Integration with other systems


Mirakl allows for to integrating with other tools such as payment systems whitch make it easier to process cutomer payments and seller commissions
Moreover, it offers pre-built integrations with - delivery systems, accounting systems and many more, which streamlines the management of processes on the platform.

Data analysis


With the possibility to analyse data directly through the platform, users can easily track their business metrics, such as the number of products sold, order value, margins and more.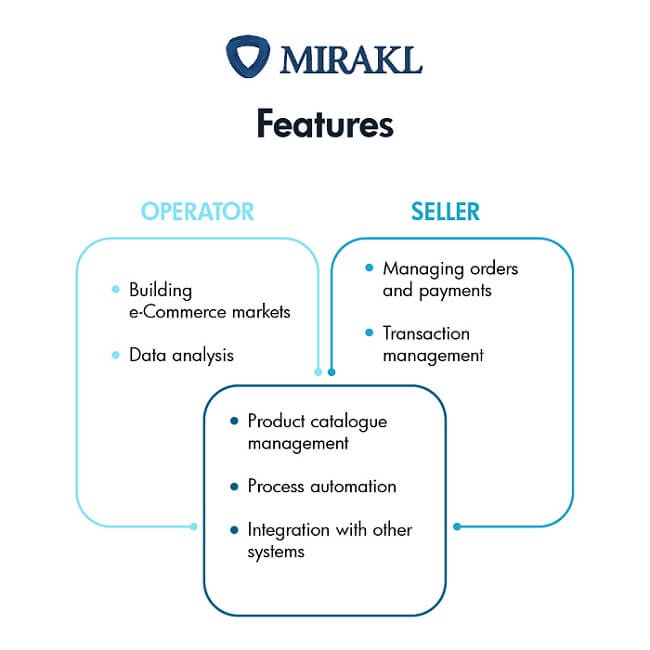 Mirakl is a flexible platform that allows for adapting offering to changing customer needs and easily expanding functionalities as your business evolves. Moreover, with the Mirakl tool, you can quickly develop your e-Commerce capabilities and increase your market presence quickly and cost-effectively.
Contact us