Custom software development
Working closely with the Client, using efficient systems and years of experience from many different projects!
Custom software development in the best way
With bespoke software, you can achieve your business goals through solutions that perfectly fit your unique needs and demands. Our expert team carefully considers your business processes, selects appropriate indicators, and employs versatile tools, giving you the confidence to make adjustments whenever necessary.

Benefits of dedicated solutions
Bespoke software that is adequately designed provides a company with measurable benefits (increased conversion, optimisation of employees' work, better data organisation, and more). Our bespoke technological offer enables Clients to elevate different aspects of their operations, from functionality and productivity to customer and partner interactions. The effectiveness of custom software heavily relies on its nature and functionality. Here are the key benefits of dedicated solutions:
Designed to meet specific needs and objectives,
Flexible - can be changed, extended and integrated with other IT systems,
Increased efficiency of tasks and business processes within the company,
Less load on the company's IT infrastructure.

Tell us about your comapny's needs

Organisations, particularly those with unique or complex needs, can significantly benefit from customised software. Even when using off-the-shelf solutions, there may be a need for modifications and adaptations in certain areas, which our experts can provide. With a properly prepared bespoke app, companies can effectively manage processes and save significant amounts of time and resources. This directly translates to measurable benefits for the organisation, such as financial and time savings.
Needs analysis during software development
Our top priority is establishing a robust partnership with our clients, serving as a reliable business partner. To achieve this, we prioritise pre-implementation analysis. Our team of seasoned professionals combines the Client's requirements and expectations with their extensive experience in implementing solutions.
Over the years, they have tried various approaches and tools, enabling them to select the most suitable strategies and techniques. The starting point of every project is a thorough analysis of our Clients' problems, goals and requirements. We also make it a point to understand the organisation's existing IT systems and solutions.
This way, we can provide tailored IT solutions that are both efficient and effective based on each organisation's distinct needs and objectives. During the design phase, we carefully consider the systems, IT tools, and integration options to maximise the implementation's efficiency. With a comprehensive understanding, we suggest tools that guarantee the utmost use of their assets. Our proposals are based on specific business cases, ensuring the delivery of maximum value to our Clients.
The best programmer of customised software
Ideo Software House – has been recognised by Clutch as a Top Custom Software Developer in Poland for e-Commerce solutions. Our recognition was based on the positive feedback from satisfied Clients who appreciated our multidimensional services and expert advice.
Clutch is a B2B company that analyses and evaluates companies across diverse sectors. Their research process, which includes industry data, current market trends, customer feedback, and prior project outcomes, is highly comprehensive. The result of this thorough analysis is the Clutch classification, which provides invaluable insights into companies.
Our company boasts a wide range of software products, including Intranet platforms, DMS and workflow tools. We specialise in implementing e-learning platforms, loyalty programmes, e-commerce services, B2B platforms and other related solutions.
We also design customised apps that meet the needs of even the most complex projects. As our Client, you will be in complete control of the implementation of the project.Our approach involves identifying your business objectives and expectations to find the optimal IT solution. With our expertise, knowledge, and awareness of trends, we can develop tools that will drive your business towards success.
Our approach to bespoke software development blends modern techniques with experience-based strategies. This hybrid approach enables us to deliver customised solutions that cater to the unique needs and expectations of even the most discerning Clients.
We are fully committed to helping you achieve your boundless potential and fulfil your aspirations!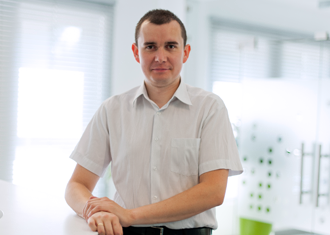 Krzysztof Kawalec

CTO
+48 17 860 21 86 (internal125)

k.kawalec // ideo.pl
Free consultation
Dedicated solutions vs ready-made/off-the-shelf solutions
Personalised IT solutions and off-the-shelf solutions differ significantly in their development approach, customisation options, implementation process, and cost. These differences are crucial to consider when choosing the tool to fit your business needs.
Approach to development
Custom application software is an optimal choice for those looking for a tool that meets their unique requirements and specifications. Tailored IT solutions are designed from scratch and based on preliminary analysis, then customised to ensure all functionality meets the Client's needs. In contrast, off-the-shelf solutions are designed to satisfy the general requirements of a wide range of users and are available immediately.
Customisation
Bespoke software is highly customisable and can be tailored to meet a business's unique needs and requirements. The Client has complete control over the custom software development process, from selecting the features and functionalities to shaping the overall design of the software. On the other hand, off-the-shelf software has limited customisation options and usually only allows for modifications to individual functionalities.
Implementation
When it comes to Custom software development, it generally takes more time as each unique solution requires detailed planning. Personalised app software is built from scratch, tested and implemented based on the agreed specifications. Conversely, standard software can be implemented relatively quickly as the solution is prepared for immediate installation and use.
Cost of Custom software implementation
If you choose to create customised software, remember that it is usually more expensive than off-the-shelf solutions. This is because bespoke application development involves additional costs associated with design and customisation. The Client covers the entire software development process, including needs assessment, testing, and final implementation. In contrast, standard solutions are often more cost-effective since the cost of software development is spread across multiple users. Typically, the price is a one-time or fixed subscription fee for ongoing support and updates.
Bespoke software provides greater customisation and flexibility but typically comes with a higher cost and longer implementation time. Ultimately, the decision between custom software and off-the-shelf software depends on the Client's specific needs and available resources.
Our highly advanced and scalable framework ensures that our applications seamlessly integrate with your company's existing system, providing access to shared data from other applications within the organisation. At Ideo, our dedicated applications are tailor-made to meet your needs, guaranteeing your utmost satisfaction.



Software development
When it comes to implementing projects, our team most often uses proprietary Edito CMS and Logito DMS systems. Moreover, we possess extensive experience working with open-source solutions and . NET. We collaborate closely with our Clients to determine the optimal technology for achieving their goals.
We follow established methodologies like Scrum, Prince 2, and IPMA to ensure efficient project management. Our team typically favours the Agile approach, which helps minimise risks and complexities. We uphold Scrum's core values of Commitment, Focus, Openness, Respect, and Courage to ensure successful project delivery for our clients.
By using proven and practical solutions, we create tools that enable our Clients to develop their businesses more efficiently.
Contact us