The online world is gaining strength and is used by more and more people. All of the undergoing processes are on the one hand, due to the development of technology and, on the other hand, to changing in consumer behavior and habits. The main factor that affected the changes was the pandemic which in some way "convinced" those who were undecided that almost anything can be done online.
There are also entrepreneurs who constantly need to stand out from the crowd in order to be successful. This crowd is getting bigger and bigger and puts more emphasis on consumer satisfaction. All of those factors makes a well-designed website not only something "nice to have", but also an important feature influencing the condition of your company.
Lockdown showed that there is a new way of working in the form of home office, and that for such a purpose numerous solutions were designed. The epidemiological situation showed entrepreneurs that they should also develop their business online - it was a boom for entire e-commerce market. New users loved the way online stores work as much that they decided to choose online shopping more and more often.
Additionally, this situation may be a kind of motivation to modernize your webpages, so that they become more user-friendly. Every entrepreneur wants his website to be the best and be remembered by its recipient.
The global pandemic has forced many entrepreneurs to move their businesses to the online world, and that is where the new cultural and social trend was born. In May 2021, Google updated its guidelines for website design and ranking factors that influence search results. Now, more and more emphasis is put on the UX. Factors that have become much more important are the speed of page loading and its responsiveness, as well as the safety of users and their data.
In this article, we will take a closer look at the trends that may dominate in 2022. While observing the development of web design, we consider what attracted people in previous years and towards which direction web design has developed the most. We cannot forget about the technology, the development of which constantly increases the range of possibilities that we can use when designing new websites.

Brand image
The website is more and more often the only place where customers can meet the brand identity, and is for the company like a business card. Its design and functionalities build the image, and the appropriate product presentation influences the level of sales. If the customer likes a given brand, he is willing to recommend it to friends, show shopping on social media, and leave positive comments.
The website design says a lot about the brand. Simply put, customers most often identify the layout of the website with the expected level of satisfaction with the product. The experiences affecting customer satisfaction also includes ease of contact and friendly service.
In addition to the visual aspects, extremely important is what your customers see every day. It is about all of the marketing activities, on various channels used by the buyer like other websites, social media, blogs, forums, feedback sites etc... All of the channels should work on the brand image and be consistent with the website and its communication.
A website or an online store can influence the company's image in several ways. What should you pay attention to when designing it?
Usability - the website must be functional, easy to use and responsive. Customers are becoming more and more demanding and impatient. Shopping that one can do in a few simple steps and a legible form will also be an advantage.
Colours - dominant colours are most often associated with a given company. They should appear in advertisements, on business cards, graphic materials, and even on product packaging.
Content - as it was already mentioned, it is content marketing that has a strong influence on image building. A nice content form and easy access to search on the site encourage its use.
It is worth remembering that sales and marketing are not the only important factors. What matters is how the company's website is perceived by virtual communities. Trends that should be considered when designing your website in 2022 will be discussed in the next section.

Interactive engagement
Interactive elements that are already used when creating pages are, for example, videos that allow the user to take an active part in what is displayed on the page, and also various kinds of chatbots. It is also a very good functionality for education and entertainment.
How can we engage the user to interact?
Configurators - the configuration of products or services enables creating an individual offer for an individual customer. It gives the customer the feeling of satisfaction of being able to create their own vision of the product. Configurators differ from each other both in terms of layout and functionalities. It all depends on the branch of industry for which they are created, specificity of the products offered, and possibilities that the store owner wants to give to the customer.
Calculators - they work best on websites dealing with finance or e-commerce, they are a good solution for pricing the products or services offered. They also work well in estimating and comparing the costs of different product features.
Quizzes - a great way to interact with clients. Therefore, you can adjust the service to the user's preferences. A quiz or a survey provides us with knowledge about the views of recipients on a given topic, and its results can improve our offer.
Infographics - they guarantee the presentation of content in an interesting way and attract the attention of recipients. It is a practical way to educate users about the products and services offered. Thanks to infographics, it is possible to present topics that have been used many times in a completely new and attractive way.
Multidimensional photos and videos - for instance photos, 360 product photography, or video presentations. Good quality, consistent product photos increase the store's credibility and its aesthetic value. They distinguish products from those offered by competitors.

Creative scrolling
Scrolling is a part of user engagement on the page, but and also an opportunity for animated feedback. When creating a website, you can decide in which moment the content appears and disappears. Long texts do not contaminate the webpage, but create the effect of transparency and order. Platforms that use scrolling effects in a creative way gain more user attention. The content is more structured and its reception easier. Taking into account the impact of scrolling on user engagement, it is also worth mentioning the term of scrollytelling.
What is scrollytelling and what it does for e-commerce?
Scrollytelling is the so-called narrative marketing, the task of which is to present a customer the history of the brand, its vision, goals, and principles. This tool works very well in working on the content of newsletters, editing a company blog, or describing services or products. Scrollytelling can combine various forms of communication, such as text, images, interactive elements, films, and audio materials (including music and voice narration).
Scrolytelling contributes to creating a positive narrative around the company and the products it sells. It is brand building, not just an offer to buy its goods. Scrolytelling activates many areas in our brain that influence the way we perceive a brand. It strengthens emotional reactions, therefore, the story that was told is memorable.
So why is it significant for ecommerce?
it makes it easier to remember the brand
It distinguishes the company from the competition
It helps to engage users
It works on the client's imagination, helps him visualize what the company wants to offer.
In addition to well-written content, the image has a very large impact on the reception of a website. When creating websites, it is worth paying attention to strengthening the message, e.g. by using a parallax scrolling effect. It creates an impression of space and depth. When scrolling, we get the impression that the content of the page is "flowing" on our screen. In order for the effect to bring the desired benefits, you should:
Make sure that the most important information is presented visibly and is not obliterated by any effect,
Make sure that the website functions are consistent and transparent on all of the possibly used devices,
Consider the possibility to turn the effect on and off.
Parallax scrolling effect is very often used in conjunction with the visualization of products. The virtual world takes customers to the world of augmented reality, to the online store, where, while using a smartphone camera, we can, for example, try on clothes and match accessories.

Augmented reality
Augmented Reality (AR) is mainly used to connect our real world with virtual objects. AR does not create a new world, but it interactively bridges the gap between the smartphone screen and the real world. Images from our physical world recorded by the camera are combined with computer graphics and 3D animations.
Augmented reality is so versatile that it is used in many branches of industry. It supports e-commerce in many areas and gives benefits such as:
Virtual shelf - allows the customer to visualize the product before buying it and breaks the barrier of no physical contact with the product.
It also enables us to see other product variants, such as colour, size or texture. Those variants can also be compared with each other without visiting a stationary store.
It enables us to provide additional information about the product. The seller can describe the item using interactive texts, graphics, or video formats that appear when the customer shows interest in one of the products.
It minimizes the risk of customer dissatisfaction. The returns, complaints or exchanges of purchased goods are therefore less frequent.
What is the AR technology most often used for?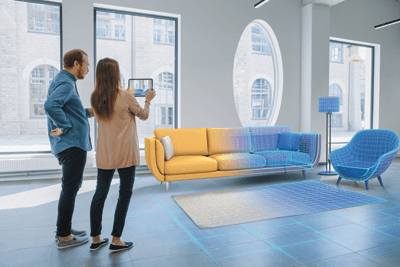 Specially designed filters that encourage a potential customer to test makeup cosmetics, lipstick colours, or nail polishes. It is also possible to virtually preview a new pair of shoes. They are most often used in popular social networking sites.
Virtual fitting rooms - they work very well in such industries as fashion or cosmetics. Augmented reality enables, for example, adjusting the colour of a cosmetic, hair dye, clothing, jewellery, or footwear.
The possibility of placing a virtual object in a chosen place in your home - because of the visualization, the customer can view, for example, walls painted in a new colour, realistically-looking furniture, and interior design. A great advantage of such a solution is precision, because of which the customer can see details of the used material, its colour, structure, and the matching of the new piece of equipment to room or furniture.
Interactive user manuals - they help to better understand how the product works. And also establish a more emotional bond with the brand.

Data visualization
Data visualization is a graphical representation of information and data. This can be done with various visual elements such as charts, maps, and diagrams. Data visualization facilitates and speeds up the analysis, and therefore gives the user an ability to quickly draw conclusions.
Graphical representation of the data plays an important role because of the fact that a large part of the population are visualizers, which means that they remember images better. The main advantage of using this type of visualization is the forecasting of sales, trends and changes on the market and factors influencing user behaviour, as well as finding areas for improvement.
Dynamic content
It is a functionality that allows you to change the appearance of a given page depending on the user's behaviour. The system that supports this functionality analyses which pages the customer has previously visited, what products they have viewed, what preferences they have, or what was in their shopping card. To put it simply, dynamic content is a good way to increase sales and engagement.
It can be used in emails, on landing pages, articles, or product pages. Customers are looking for personalized experiences. The vast majority of people are more likely to shop from brands that offer relevant offers and recommendations. Although, the setting of a dynamic content on website is more time-consuming, investing the right time and commitment can have a positive impact:
More return visits and a higher conversion rate,
Greater experiences of users after visiting the site,
Maintaining the page layout regardless of the device used to browse the website (PC, mobile devices, TV).

Sense of security

The pandemic resulted in greater interest in online sales, and increased requirements regarding the security of transactions.
The vast majority of Internet users choose an online store that inspires trust and guarantees security. Importantly, the sense of security also has a large impact on whether the customer decides to buy in a given store or not. How to ensure it?
Sales regulations
Running an online business requires good preparation not only in terms of logistics but also in terms of regulations of the functioning of the online store. Every entrepreneur selling online is obliged to prepare the regulations of the store and make them available to all potential customers. The most important elements it should contain are:
Information about the store and the entrepreneur - here you should include information such as: name of a company, NIP and REGON, correspondence address, and the address at which the company is registered.
Field of activities - territorial area, and the scope of services provided
Payment methods - all available payment methods in the store, e.g. payment by credit card, bank transfer, or on delivery.
Complaints, terms of returns, termination of the agreement -there should be included all information about the rights and privileges of the client. The procedure for the return of goods, and the deadlines, information about the possibility of withdrawing from the contract.
Regulations for the use of the store's functionality - all information necessary to provide electronic services, such as: customer's electronic account (profile), newsletter, ordering form, the ability to add ratings and opinions about products, or the contact form.
SSL certificate
One of the most important security factors for a store's website is the SSL certificate. Because of it, all of the sensitive information about the customer (personal data, payments) is encrypted and protected against access by third parties. Having such a certificate evokes in the user a sense of security, credibility of the website, prestige, trust, and brand recognition.
This certificate is visible to the customer after entering the website - it is the padlock in the upper left corner of the website, next to its address.
Information about cookies
Cookies are files used to track traffic on the website, facilitate its proper functioning, and help to adapt the website to the requirements of Internet users. In order to ensure the safety of customers, the owner of the online store is obliged to inform the user about the use of cookies and post an appropriate message. On its basis, the client decides whether he wants to continue to watch the content of the website or he prefers to leave it.
Privacy policy
The protection of personal data is a very important element ensuring a sense of security for customers. It should contain information about:
The administrator of personal data
Contact details of the data protection administrator (if appointed)
Purpose of the processing of personal data and the legal basis
The recipients of the personal data;
The period of processing and the right to withdraw consent.

Simplicity and minimalism
While surfing in search of shopping opportunities, each of us came across a wide range of "overloaded" stores. The complexity of websites, overload of information, incompatibility with mobile devices, or ubiquitous advertisements effectively discourage people from shopping.
Because of that, it is worth ensuring that shopping is quick and convenient, and that the website is clear and functional. The leading idea should be the trend of minimalism in website design - simplicity, elegance, consistency. We should start by building a website architecture that is not only easy to use but also intuitive. This means that users understand how to navigate, and are able to find what they are looking for with ease.
The next step is the minimalistic look of graphics, which makes the website more transparent and user-friendly. What is important, the simple form of a page emphasizes the advantages of the product viewed on the website.
A well-chosen uniform background and clear text bring harmony and are eye-catching. The use of achromatic background colours, and also bright, saturated colours give the page more elegance. We should also remember that properly selected colours of the website may evoke specific emotions. But, at the same time, it may serve as an informative function and increase the visual attractiveness of the website.
A minimalistic website should only contain elements that have a precisely defined purpose and its message must be transparent.

Unchangeable rules
The trends that affect the attractiveness of websites are important but they also change and pass rather quickly. Therefore, one should remember about the principles and requirements that should be unchangeable. When designing a website, it is also worth remembering about them.
Responsible website traffic design it is a well-designed website navigation. It should be intuitive and easy to recognize. The internal search engine should be well displayed, and links and buttons should be distinguished from the rest of the elements. It is important that the information is logically organized to make it easier for the user to navigate the site.
Speed of page loading it is essential for the functioning and success of an online store. Internet users do not like websites that load too slowly due to their size and weight.
The page loading time is counted from the moment the user enters the website until all elements and functionalities are visible. Its optimal time should not exceed 2 seconds. Waiting too long for the loading of graphics or video content will cause reluctance, and therefore, the user leaves the page.
To confirm this trend, it is worth mentioning the research conducted by Google. It shows that 40 % of internet users leave pages that need more than 3 seconds to load. Additionally, as many as 79 % of users admit that they are not satisfied with the operation of the websites, which means that they less often visit them to make further purchases.
It also has a very big impact on the work of Google search engine. Page loading speed is an important factor that influences its positioning. The top places in the search results are taken by those sites that are displayed very quickly.
Content personalization it plays a key role in the world of online shopping. It strengthens customers' trust for the brand and its products. Consumers attach great importance to being recognizable as an individual and have an increasing tendency to buy more products from companies that adapt offer to their needs. The success of a company that wants to attract and retain customers depends on knowing, understanding, and reflecting their needs. Content personalization and fast page loading are the two main areas to focus on for web designers in 2022.

---

We will analyze your needs together and advise you on how to implement the B2B Website in the best way for your business.
Make an appointment for a free consultation
.
---
Availability of websites
The Internet is an open space that can be used by almost all of people. Unfortunately, the use of this medium is often a huge barrier for people with disabilities. Therefore, when creating and designing websites, it is worth taking into account the WCAG (Web Content Accessibility Guidelines).
This set consists of 12 elements, defining the principles of creating websites and applications that will be available to people with sight, hearing, and physical disabilities, as well as people with intellectual disabilities or cognitive disorders.
According to WCAG 2.1 a page, based on 4 pillars of accessibility, should be:
1. Perceivable - all elements of the user's interface should be presented in such a way that each person can use them through their senses. This can be achieved, among others through transcriptions of audio and video materials, logical content structure, text colours that are clearly visible on the background colour, or responsiveness, i.e. automatic adjustment of the view to the screen width of the user's device.
2. Operable - according to this principle, finding and using content and functions of a webpage should be available to the user regardless of whether they use a mouse or a keyboard. This can be done, among others by creating a possibility to handle the page with just the keyboard, avoiding complex gestures on the touchscreen, or giving enough time for the user to read and process the text.
3. Understandable - all applications and information on the website should be presented in a way that is understandable to the user. Texts should be written in simple language, without using difficult words and phrases. Forms should be provided with visible and understandable descriptions and hints how to find errors in the written text.
4. Robust - it is about the adaptation of the content and functions of various programs to web browsers, and to screen readers for the blind people.
WCAG directives are a valuable guide for all website builders. Despite their strict criteria, they contribute to facilitating access to the Internet a wide range of users.

Trends and guidelines for 2022
Every year there appear new directions in web design. However, the most important thing is to strike a balance. We should be aware of how diverse the society is and know who we want to reach with our offer and message.
In the pursuit of modernity, we cannot forget that among the audience there are people with disabilities or disorders for whom the virtual world can be a barrier. Therefore, web developers should do whatever it takes to make it easier for them. The main thing is to stick to the rules: functionality, readability, and loading speed.
Following the latest trends is, above all, a good way to maintain freshness and interest in your brand among customers. In addition to graphic design, it is worth remembering that good results also include the selection of thematic blocks, and regular publications in social media.
You may also be interested in:
Characteristics and analysis of behaviour and interests of the "Z" generation. How to win their hearts and turn them into loyal customers?
The automation seems to be always the best solution these days. However, the manual one often work well in areas where automation tests are not applicable. Read the article to see differences.
Project-based Software Development
Tell us about your needs
IT Project Outsourcing
Services Tailored To Your Needs
In case of a temporarily increased demand for IT staff, hiring a suitable specialist for a short period would be challenging and not profitable. To help optimize the costs of running a business, we could offer you, among others:
Get a free quote

Even though fixed-price projects suit us best, our services can also realized based the following cooperation models:
Time and material

Dedicated Team

Individual model
Enhance Your Projects
How can your business maintain a competitive edge in today's constantly evolving technological environment? One solution is to invest in the IT project outsourcing that we provide. By engaging with our software development company, you can access a wealth of knowledge and expertise that would otherwise be unavailable.
You will save time and resources, focusing on other core aspects of your business operations while leaving the demanding IT tasks to our world-class professionals. With their assistance, you will, without a doubt, elevate your projects to the next level, easily outperforming your competitors.


Why Outsource With Us
Working with us brings your business to entirely new heights. For once, we boast a team of the best experts within the field of IT, which guarantees that you can expect nothing but the highest level of services regardless of the magnitude of each project. All tasks are performed with exceptional precision and attention to detail, 100% tailored to your business's needs and requirements. Moreover, processes are meticulously automated, resulting in savings in both time and money. If or when any doubts arise, we are open to conversation, always willing to apply any modifications and adapt to the changing needs of our clients, rendering us the perfect partner for all businesses.


The Power of Software Development - Our Rewards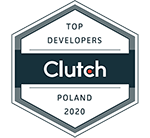 As mentioned above, clients from all over the world rate our comprehensive approach to project implementation and business consulting, which is why Clutch has considered uss a leading eCommerce Software Development Team in Poland. That is, however, not all.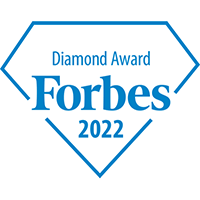 In our daily work, we help to develop our clients' businesses. Their trust and effective cooperation make us grow as well. In January, 2022, the new edition of the Forbes Diamond Award report was published and we were proud to be listed among the fastest-growing Polish enterprises in this prestigious report. And as we help to develop our clients' businesses by doing our utmost best, their thrust and cooperation mean a lot. Indeed, we will only continue to grow together!
Contact us