Along with the development of the e-stores, there are new responsibilities related to promotion, distribution, logistics, accounting, and also the implementation of new product strategies. Therefore, in order to automate work and facilitate work-related activities, you need to integrate the your-store with the ERP system.
As a result, you get access to many specialized modules and applications that will be tailored to your company's specific needs.
With this article you are to learn what to bear in mind and what to pay attention to before integrating your e-store with the ERP.
Each company, regardless of its business model in which it operates (B2B, B2C), offers customers products and services distributed via physical or online store. For this purpose, there should be a dedicated system that enables the ciontrol of sold products and services.
ERP systems are the best solutions for storing this type of data. At its core, ERP allows you to control and manage the most important resources and processes related to day-to day business activities such as sales, finance, accounting, warehouse, personnel, procurement, production, etc.
The implementation of such a solution significantly improves the completion of orders, obtaining information, and customer service.

What happens if the e-commerce system is not connected to the ERP system?
Then, most often, companies will resort to using manual data entry. For example, all orders from e-commerce would be manually added to the ERP system and vice versa all products together with the price and inventory would be imported to e-commerce, e.g., trough Excel files.
In case of scale businesses manually entering 10 orders a day, this is not such a big problem. Problems emerge when the number of daily orders amounts to several hundred or several thousand.
In the case, the integration of the systems and automation of data exchange is an indispensable element of optimization which results in:
Cost optimization, 
Time optimization,
Elimination of potential errors, e.g. spelling mistakes, 
Real and correct data sent almost in real time.   
In such an extensive online store there must be a place where information on the product inventory levels is available, where relevant documents (receipts, releases, invoices, corrections, etc.) are issued and orders are handled.
However, before the integration, it is necessary to define what data will have a source in which system.

Inventory levels
Inventory is one of the most important aspects which determines whether a potential customer will make purchases in a given e-store or not.

Case study:
John Smith wants to buy a pair of shoes. He visits an online store, finds a dream pair and pays for them. After a few days, he receives information that the product is no longer in stock, his order is cancelled, and the money returned.
Smith gets angry and irritated, decides not to shop in this store anymore because he stopped trusting them. 
The outdated stock data or too long information exchange between systems very often leads to customer frustration and reluctance to make more purchases in a given store. Therefore, during integration, it is worth paying attention to such issues as:  
Should inventory levels be taken from one or more warehouses?

Does the inventory level depend on multiple warehouses, e.g., 3 lamps in the A warehouse, 4 more lamps in the B warehouse? In which stock should, for instance, in the case of an order for 6 items of this lamp, be made a reservation be made?  

Is the same warehouse (product inventory level) wsed by both a physical-store and e-commerce? If so, how should the data be synchronized? 

Is the reservation of the product (reduction of the stock by the number of ordered items) made immediately after placing the order?
If this cannot be done directly within the ERP system, it is worth reducing the stock within the e-commerce area until the data is synchronized. 

Is the inventory of a given product built on the basis of many other product inventory levels, i.e., partial products, and according to which algorithm such information is passed to e-commerce? Are we dealing with the so-called Sets (e.g. Subiekt GT)? 

Should cancelling an order end a stock reservation?

Should goods not available in stock be published and visible in the store?  

Is there a high turnover in the warehouse or are there many cases of damaged products (and therefore it is necessary to make a safety buffer, e.g. at the level of 5 items in stock), do you block the possibility of buying such a product in e-commerce?  
The above issues are very important to avoid a situation in which the customer comes across incorrect information or their complete lack several times during one visit.
The consequence of such policy will be cancellation of the order and loss of the Customer. Moreover, there is a high probability that this person will buy from a competitor.

Price
Prices are another crucial element of the integration of e-commerce with the ERP. In this case, the key question is whether the company offers its products and services only to B2C or also B2B customers.
In case of an offer targeted at individual customers, the matter is theoretically simple, because within the e-commerce there appears only one price.
The problem appears when the price that comes from the ERP system is the net price, and then the system enables to round it up in various ways in such circumstances the questions arises: how to convert this price within the e-commerce?
The price should be as close as possible to the gross value in the ERP system, otherwise one can experience problems with the billing and SAF-T (Standard Audit File Tax). Therefore, the conversion of prices at VAT rates is not interchangeable. It is extremely important to know what prices will be used in the store and according to what algorithm they will be recalculated.
It is worth paying attention to several elements: 
Should the starting price be net or gross?
Does the price require recalculations?
Will the price be converted to other currencies? If so, how?
Are prices in ERP constantly changing, for example once a month, once a day  or maybe even more often? (there are industries where the price can change every few minutes) 
Are prices variable, e.g., calculated on the basis of the exchange rate?  
Does the final price of the product depend on the purchase price from a given day or a given batch?   
All the situations presented above mean that the exchange of price information between systems must be conducted on an ongoing basis, almost in real time, e.g., every few minutes. However, in order not to get into the bottleneck, you should think about task queues during the integration process.
The entire process must be properly optimized to prevent the customer from buying a product at a different price than the current one. In addition, an important function is to block the price in the basket while a customer is making a purchase.
Conclusion: any price update must be sent to the online store instantly. This is important especially in case of e-commerce with a large amount of assortment and a very low profit margin. 
Multiple price lists that feature the same products could be another difficulty which is connected with teh volume of the ordered product or the person who orders (representating a given market segment). This is particularly important for websites that offer both B2C and B2B sales.
In such situations, one should answer the following questions:
What should be the price when buying 1 item (B2C)?
Does the price depend on the unit?
Does the price need to be converted, for example, from pcs to m2?
Can a product be purchased per m2 or only for full package? Does the price change when buying, e.g., 1000 items per company (B2B)? 
Does the price change when you log in to the site? (after logging in, B2B contractors can see wholesale prices).
Can contractors have individual prices for a given product, product category, or product type? (B2B) In case of individual price lists, well optimized and clarified mechanisms must be used.   
All price dependencies in the ERP must be transferred to the e-commerce system. It is also important to keep in mind the transfer of all VAT rates. Each of the products can be sold at a different price, and the tax thresholds can be different for international sales.  
Moreover, for some industries, appropriate functions should be used to collect the individual data of the product and the quantity of the product in the package.
Example: Let's assume that we want to sell vinyl planks flooring in an online store. Currently, this product is sold in packages, but customers calculate their demand on the basis of m2; therefore, the price is also given for m2 there is 1.44 m2 of vinyl planks in one package. Such information is often found in the ERP system, and when having it in the e-commerce, it is easy to calculate the price per m2. In this case, it should be verified whether the price in ERP is the price per package or per m2.

Business partners
Customer data is one of the most crucial elements to pay attention to. Regardless of the industry, type of sales (online/offline), or target groups (B2B/B2C), it is worth considering storing the data about contractors in one ERP system. This is particularly essential for B2B sales, which cannot operate successfully without such data as:   
Dedicated, individual price list for a given contractor, e.g., a discount on a part of the product offer 
Assignment to a specific purchasing group, which may result in additional discounts 
Defined Trade Credit
Extended payment time for selected contractors  
In addition, if a given contractor buys both via e-commerce system and in a physical store - and both of these solutions work on the basis of one ERP system - it is an ideal place to combine all his purchases in one account. Then, when customers log in to their panel in the store, they have access to the history of all their invoices and dates of their payment.
An important function is the possibility to block further orders of accounts with the largest number of overdue payments. In case of large companies, automatically blocking "indebted customers can help save many hours of manual work.  
Integration with the ERP system gives greater opportunities for process automation, optimization of manual verification of customer data and their overdue payments, solving problems with lost invoices (the system enables us to download and preview them).

Orders
Orders in the e-commerce system are a set of data informing where, what, and to whom to deliver. Within an ERP system, you receive additional information about the ordered product, e.g., where the goods are taken from, which commercial document to issue, whether all the required data for the commercial document are available and correct, how to deal with product sets.
The integration of these two systems allows for simple data transfer of data from system A to system B. Another essential element in the ordering process is determining the time needed to send order information to the ERP system.
This process should take no more than 1-3 minutes. The longer you send data to ERP, the greater the risk that a given order will not be completed and sent, for example, within 24 hours from the moment of placing it. For large systems, it is recommended to use a queuing mechanism.
This is particularly important in situations such as:   
Problems when connecting to ERP, which means that when you log in again, the e-commerce system has to send many orders at once (mass shipping) 
Restoring and synchronizing data, e.g., after updating one of the systems 
The need to send historical orders to synchronize data between systems


Invoices
Regardless of whether customers buy in-store or online, whether they are retail or wholesale customers, each of them should have an insight into the history of their transactions. E-commerce can become a place where customers will be able to verify their order, access invoices, and preview their payment date.
Due to outstanding invoices, a B2B contractor can be automatically blocked and not able to make any further transactions. Apart from that, the system using the invoice dates can automatically send reminders to customers about their overdue payments.
This is because ERP is the place within which sales documents (invoices, receipts) are issued. Unfortunately, the vast majority of stores still send paper invoices to their customers, which causes additional costs and inconveniences:
Cost of paper, 
Cost of printing, 
Invoices may be damaged during transport (e.g. flooding), 
Customers very often lose invoices, which are indispensable if they want to make a complaint.
The solution may be an electronic sales document delivered in the form of an e-mail which can be downloaded from the website via an e-commerce account. When integrating with ERP, attention should be paid to below questions: 
Does the e-commerce system have to generate a proforma invoice? If so, to which template?
Should the e-commerce system download an electronic invoice from the ERP system, e.g., in PDF?
Should invoices be downloaded immediately after their issuing in the ERP system or at the customer's request, e.g., from the level of my account?  
Where will the invoice files be stored? On which server? (server with ERP or server with www).


API (& integration of systems)
The bottleneck of integration is usually API. It requires verification of several factors that may slow down the way of integration, for instance:  
Does the API allow for downloading multiple products/orders/prices/inventories within one request?
Does the API support notifying of changes concerning the product/order/price/stock?
Does the API only retrieve changed data, or does it retrieve everything in a dedicated date range each time? (variable exchange is recommended)
Does the API receive changes that have appeared since the last request? (it eliminates the need to review all products/orders/prices/inventory for changes).  
Does the API have a daily requests limit? 
Does the API require a license and does the ERP system have a limited number of licenses? For instance Subiekt GT (API should have its own dedicated key and license to eliminate the license key expiration, which will cause the API to stop working for a long time).   
Designing and implementing optimal and effective integration requires a thorough API analysis of the e-commerce and ERP system at the initial stage of data merging.

Glossary of useful terms
ERP - a modern system supporting management of small and medium-sized enterprises. It enables, among others, full management of all types of commercial and warehouse documents, inventory of contractors, goods, services, managing orders, prepayments, and many others. Integration with the ERP system enables the exchange of data on:   
Import and update of goods,  
Import and update of contractors,  
Import and update of customer orders,  
Import and update of purchase invoice, 
Export and update of GRN (goods received note), 
Export and update of Stock Issue Confirmation CI,  
Export and update of materials issued notes GIN, 
Export and update of internal transfer GRN,
Export and update of warehouse transfer sheet, 
Export and update sales adjustments,  
Export and update of sales documents.  
Item inventory - contains many fields describing the goods. Basic parameters, such as prices, measures, and groups to which a given product belongs, are defined here. This allows for easy management of assets by compiling information in one place.   
Customer Database – counterparty card containing a set of aggregated information about a given customer or supplier. Basic data such as addresses, contact details are defined here.

Sample integration scheme
---

Together we will analyze your needs and advise you on how to implement a PIM that will increase the efficiency of your e-commerce.
Make an appointment for a free consultation
.
---
Conclusion
Depending on the nature of the company and the objectives of the ERP system implementation, the entrepreneur reaps a number of choosing this system. Today's B2B and B2C systems, if they want to develop and prosper, must from the very beginning include automation of as many mechanisms as possible.
Nowadays, ERP systems are necessary to improve the profitability of processes and expand your business online.  
You may also be interested in:
From January 1st, the e-commerce sector in European Union is obliged to prepare for various changes regarding the digital content, sale of goods, and omnibus directive. See what changes concern you.
Our client on the podium of the competition organized by the International Project Management Association. Earlier, it also received the title of "Leader of Digital Transformation" from the Federation of Polish Entrepreneurs
Project-based Software Development
Tell us about your needs
IT Project Outsourcing
Services tailored for your needs
In case of a temporarily increased demand for IT staff, it would not be easy nor profitable to hire a suitable specialist for a short time period. To help optimise the costs of running a business We could offer You:
Get a free quote

Fixed-price projects suit us best, but our services can be realized also on the basis of the following cooperation models:
Time and material

Dedicated Team

Individual model
Top Custom Software Developer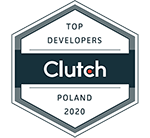 Clients rate our comprehensive approach to project implementation and business consulting very well. This is one of the main reasons we are considered by Clutch as a leading eCommerce Software Development Team in Poland.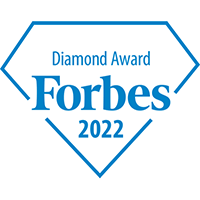 In our daily work, we help to develop our clients' businesses. Their trust and effective cooperation make us grow as well. January, 2022, the new edition of Forbes Diamond Award report was published. We are proud to be listed among the fastest-growing Polish enterprises in this prestigious report.
Contact us