Many tools offer a search engine feature, but the range of functionality, flexibility of the tools, or the way they are billed differ from each other. As a result, choosing the best option for your online store is quite a challenge.
We present a list of search engines that are able to meet the requirements of even very complex sales platforms and feature modern solutions. During its creation, we asked selected representatives to express their opinion: "What do you consider to be the greatest potential of product search engines for e-commerce?". The answers we received are included in the description of some of the tools.
Let's get to know search engines with the potential to generate sales increases in your e-commerce. A full list of the most noteworthy tools can be found in the summary.
Tools in the overview:
Elasticsearch | Doofinder | Algolia | Prefixbox | Luigi's Box | FACT-Finder | Graphical summary
The first tool we took a closer look at was Elasticsearch. The Open Source search engine is built in such a way as to enable users, first of all, for a convenient extension, but also to easily operate the implemented solution.
Delivery speed is the outcome of powerful analysis using an advanced, developer-friendly query language that includes structured, unstructured, and time-series data.
The implementation itself is a very flexible matter, both in terms of the platform and the way it is carried out. That is why the search engine stands out from other solutions based only on the cloud.
In the Elastic engine, search functionalities have been divided into two categories - used internally in company structures (Workplace Search) and a search engine for websites and web applications (Site Search & App Search).
The second one gives online stores a chance to implement a single, consistent tool wherever it is needed by users. Using Voice to Speech API, a voice search engine may be also implemented, which is increasingly expected by consumers. This is due to the habits of using the Google search engine.

Due to Elastic's Open Source approach, a lot of the features are available as plugins, though this makes the possibilities quite large. At the moment, the only thing missing is the visual search function.
Pricing and support: The price depends on the implementation type and size, including the number of functionalities used or the online store size. There is an extensive price calculator available, in which you can approximate the estimated costs. Creators also give you the chance to test the system during the trial period. Elasticsearch works globally and provides dedicated support for various countries or regions.

A solution created with a modern thought what we can see at every stage. With Doofinder, you are able to implement a comprehensive semantic, voice, or visual search tool (the search engine from the item photo picks up its features, e.g. shape and color, and then selects the results on this basis). All search methods are available simultaneously in the mobile and desktop versions. From the implementation point of view, such a comprehensive approach will certainly work in stores with a huge products range or a diverse industry scope.
The search engine meets the complex online stores' expectations, by offering access to a wide functionality range, located in the tool's modules.
Smart Search - semantic search engine using NLP, suggestions, and synonyms to enrich the results.
Mobile, voice, and visual search - refined search options, delivering results to users through their photos sent from mobile devices
AI Search – search engine watch customer behavior and learns from it, drawing conclusions on the buying path patterns. Based on gathered information it updates search rules to enable more relevant suggestions when a user is looking for a specific brand or product. This is also a feature that is responsible for developing and improving personalization in e-commerce.
Searchandising – a marketing function that allows adding special banners in the search layer, product promotions or simply strengthening a specific brand. It includes creating our own ranking rules
Statistics – the tool retrieves real-time statistics so we can see get a detailed picture of what and how users are really searching in our e-store. Analytics are shown in dashboards e.g. "Top searches" or "Zero results" all with a possible division into performance on desktop and mobile versions. It will be much easier then to modify and apply changes in order to improve sales of products with lower efficiency.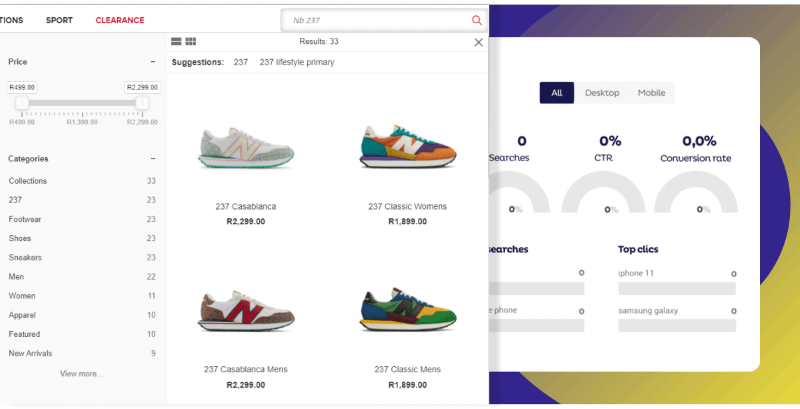 Thanks to the artificial intelligence used, search engine implementation in a store operated in any language is not a problem (at the moment, Doofinder handles searching for websites in 54 countries).
Chiara Algarotti, PR Specialist for Doofinder on eCommerce Search Engine potential: "Advanced Search Engine undeniably improves the eCommerce search experience. The algorithm used in Doofinder learns from customer behavior, increasing online sales by up to 20%."
Pricing and support: There is a free option at disposal, of course with some limitations in functionality, while the remaining bundles are based on the number of inquiries/month. There is also an additional fee for the mobile version of the search engine. Paid bundles start at 29 €, and the most expensive one, already with the mobile version, is available for 120 €. Despite the additional settlement for a mobile search engine, it is a quite remunerative option. However, before you decide on this tool, the producer provides a 30-day trial period. Doofinder team provides support for more than 10 languages.

Algolia's site search engine is a French solution created in the SaaS (Software as a Service) model. Vendors have made it one of their main goals to achieve the highest possible speed in delivering results. Their best deployments can process a query within milliseconds. Next to the real-time response, Algolia provides us with a range of necessary functionalities to improve search accuracy.
From the panel, we can set rules according to which products will be displayed - the results appear as you type the query, and keep changing as the query gets longer and more detailed. The campaign banners can also be added to specific search phrases to drive searchandising and boost sales.
Algolia tool is divided into two parts:
1. Algolia Search - the main module, responsible for all the standard features. We can find there misspellings and synonyms recognition with the use of artificial intelligence power (synonyms generated by the system without the need to create the database manually), possible queries suggestion, and access to stats and achieved results analysis. Also, it is possible to use the voice search engine.
The system gives us the flexibility to adjust the search engine to the e-store's specific requirements (e.g. its industry, etc.) We can manage query rules ourselves, like the minimal and a maximal number of marks in the box, or rank the searches from those available closest by geo-location, and even create custom ranking rules. With the Visual Editor's help, we get total control over how the final searching experience will look like.
2. Algolia recommend - this module is responsible for matching similar or complementary products in order to display them as, for example, " The most frequently bought together with (...)". It enables us to use and develop cross- and up-selling in an online store, and even to run a simulation on the implemented recommendations to increase the conversion from the first moment they are used on the website. Moreover, this is a way to bring personalization to subsequent interaction points with the user.

Pricing: Search and recommendation modules are billed separately. In both cases, a free version of the tool is available for e-stores with less than 10,000 records and number of queries per month, but it has a distinct feature limitation. Besides that, they offer two plans - Standard ($1 for 1000 queries and 1000 products) and Premium ($1.50 for 1000 queries and 1000 products).
Some features are separately charged $0.60 still depending on the product and query number, so the final price is very individual. All in all, it will certainly not be the cheapest solution but still to be one of the most promising on the market.

Among the product search engines that offer the greatest range of possibilities, we singled out Prefixbox. It is based on the engine from Elastic that is described above. Thereby, the tool can ensure linguistic independence for the implemented search engine (so far it is possible to use over 90 languages). Synonyms and misspellings are seamlessly recognized, along with Natural Language Processing (NLP) which is responsible for understanding every phrase, even the most commonly used one. This is a feature that recognizes the natural language we would use in a real conversation with a store assistant, instead of putting strict keywords into phrases to make the search engine's task easier.
A transparent structure of available functions, proprietary, integrated analytical platform, and all other necessary functions can be found within the reach of a search engine built on Prefixbox.
Creators have focused on 3 key usability aspects:
Autocomplete – possible words for search results' suggestions during typing the search query.
Related searches - the search engine displays alternative proposals of similar products when a given item is missing or an unclear query has been used.
Semantic Product Finder - the main tool's module, equipped with dynamic filters, synonym tolerance, ranking system, etc. Everything is based on detailed data, which is constantly indexed by the internal analytical system.
Modules are implemented via the API interface. All of them use AI (Artificial Intelligence), NLP (Natural Language Processing) technology, and thus, it is possible to effectively personalize results, offers, etc. The creators of Prefixbox are constantly developing the NLP function to meet even the most advanced user formulations.
An interesting feature is also the interactive products query suggestions in the fill-in box window, appearing even before we even decide to use it. An interesting solution to encourage customers to look for specific facts, support ongoing campaigns and drive sales. It goes a step further, in seemingly simple and standard functionality like suggestions. It is worth bearing in mind that they are not so seldom that they make the biggest difference to the user.
Paige Tyrrel of the Prefixbox team told us: "If shoppers can't find the products they want to buy, they can't buy them. 80% of online revenue is generated by the 20% of shoppers who use the search function because they have a high purchase intent. It's such a prominent feature on a website and plays such a critical role in the customer experience that eTailers can't afford to overlook it. While it is often just associated with the Autocomplete search bar, search is a lot deeper than that and it takes time and expertise to develop a great solution that drives results. Search used to be hard; we make it easy!"
Pricing: You can choose from several bundles with individual functions, and the final cost depends on the number of inquiries entered by users during the month. The available "boxes" start from 500€ and as with most other tools, depending on very specific requirements, the pricing is individual. This tool is priced quite high compared to the others, but it targets mainly medium and large enterprises.

Another tool is available on the market not for so long - since 2016. Analyzing the individual functions that form the basis, but also those less common, it turns out that Luigi's offers a very extensive package. A traditional semantic search engine is available, but also visual, voice, and geolocation search. The latter, makes the search results vary depending on the location from which the query came and displaying products available stationary or in stock within a predefined area. This feature is optional, but certainly effective and practical if we sell online and offline at the same time. Results' relevance in semantic search, is enhanced by the use of previously discussed NLP, dynamic synonym dictionaries, or error and synonym tolerance.
In response to the various industries' needs, Luigi's box, in addition to traditional phrase queries, uses the Smart Product Codes function By that it can recognize entered product codes and their "derivatives" with missing spaces, dashes, etc., still providing customers with accurate results. In the area that expands under the search field, which contains a preview of the results, you can directly add products to the cart, improving further purchases for customers.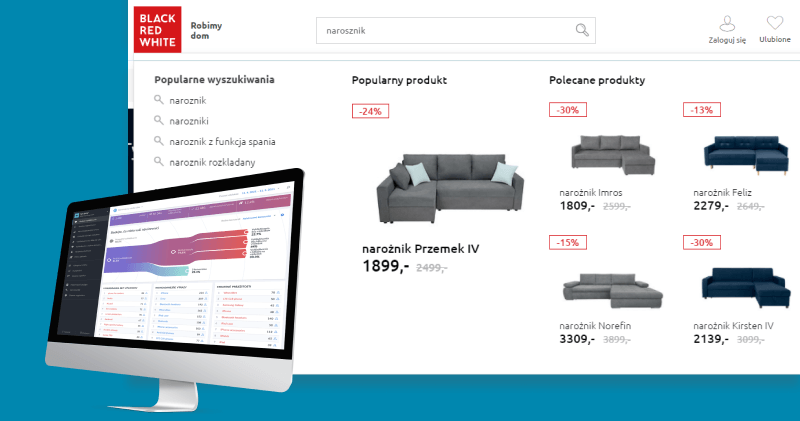 Luigi's box also offers:
Trouble-free searchandising application and improvement by dragging any elements in the desired order,
Executing campaigns to support current promotions,
Defining dynamic filters, which are more and more often found in progressive solutions (displaying only filters useful in a given product category, instead of all available on the website),
Conducting A / B tests, also offline in the form of synthetic tests, preceding online tests for a comprehensive effect.
Pricing and support: The price depends on how big is the online store in which we want to implement the search engine. Luigi's box takes into account website traffic, monthly orders, number of products, etc. For larger websites (+20,000 views/month) an analytical tool provided by the manufacturer is additionally payable.
Of course, there is also an option to adjust the solution to the specific needs of the store, along with an individual quote. The producer gives us the opportunity to test the engine for 14 days. Dedicated support is available in 5 languages: Czech, German, English, Polish, and Slovak.

---
Write to us

.
We will analyze your eCommerce and suggest how
proper search engine could help it grow.
---
What is definitely worth paying attention to in FACT-Finder is the Predictive Basket module, based on artificial intelligence. This functionality learns the individual and general behavior and buying patterns of search engine users. In that, it can accurately predict which products are most likely to be bought again and remind clients to reorder in personalized proposals before they run out.
Another interesting feature that can be found in FACT-Finder is Worldmatch®. It can correctly identify word components in various combinations and match them in an error-tolerant and (importantly) language-independent manner. It is not NLP, but a proprietary algorithm that includes some features of natural language processing. FACT-Finder does not offer a visual or voice search engine, the producers have focused on improving the classic search engine, so you will find many very refined functionalities corresponding to the semantic and faceted search engines. Among the additional features of the tool is creating Landing Pages for campaigns related to search and more.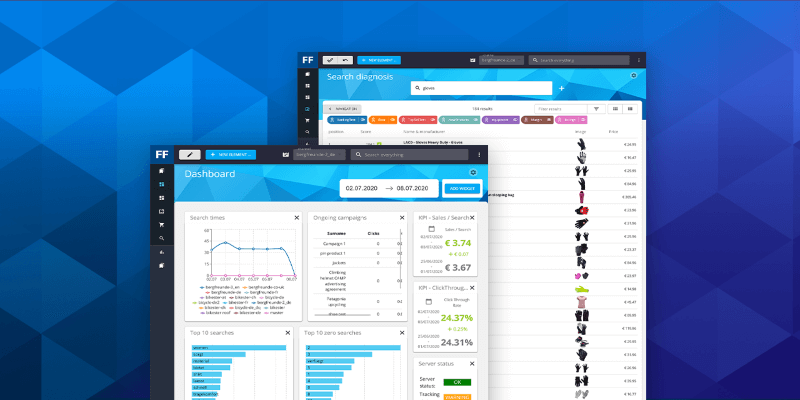 To the question: "What do you consider to be the greatest potential of product search engines for e-commerce?" Jessica Harding, Senior Marketing & Partner Manager at FACT-Finder replied: "There's no denying that retail has been forever changed, and online trading is at an all-time high. Customers expect to be able to intuitively find products in your online shop just as they're used to doing in your brick-and-mortar stores. If they don't find what they're looking for quickly, that's a one-way ticket for them to hop on over to your competitor's site. If you can meet (or exceed) customer expectations by providing an optimized and seamless customer journey, then you'll be ahead of the game - which is why you should trust in market-leading solutions to achieve your goals."
Pricing: The price varies depending on which modules are chosen, along with the monthly queries' number and search channels needed. The cheapest plans start from 216€, but the company offers flexibility in choosing the features you need - then the pricing is made on an individual basis. It is possible to try the DEMO version.

---
Graphical summary
* * comparison based on information available on official product websites and review platforms
The following table shows a feature overview in the most prominent site search engines. All the solutions analyzed, in combination with an experienced deployment team, are able to ensure maximum online store success. Depending on how big your e-store needs are, we have compiled both solid, traditional solutions and those thanks to which innovation in your store will be visible at first sight.
A trend that cannot be overlooked among search tools is the implementation of artificial intelligence potential in various ways and for various purposes. It is most often used to develop effective personalization of the delivered results and natural language processing. The tools' price ranges differ greatly, and at the same time, they are very similar in terms of available features. What only some manufacturers noticeably decide to offer are visual and voice search forms, but this is likely to be on the rise as well.
---

Do you need an efficient sales platform? Our experts will be happy to advise you on optimal solutions.
Make an appointment for a free consultation
.
You may also be interested in:
The rapid growth of your online store brings numerous challenges. Complications arise, among others, in the area of logistics, the center of which is most often a warehouse.
Wondering which PIM platform will work better for your business? Take a look at our comparison of two of the most popular platforms on the market: Pimcore and Akeneo.
Project-based Software Development
Tell us about your needs
IT Project Outsourcing
Services tailored for your needs
In case of a temporarily increased demand for IT staff, it would not be easy nor profitable to hire a suitable specialist for a short time period. To help optimise the costs of running a business We could offer You:
Get a free quote

Fixed-price projects suit us best, but our services can be realized also on the basis of the following cooperation models:
Time and material

Dedicated Team

Individual model
Top Custom Software Developer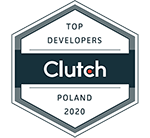 Clients rate our comprehensive approach to project implementation and business consulting very well. This is one of the main reasons we are considered by Clutch as a leading eCommerce Software Development Team in Poland.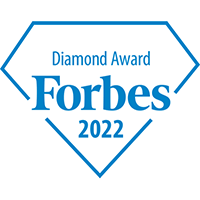 In our daily work, we help to develop our clients' businesses. Their trust and effective cooperation make us grow as well. January, 2022, the new edition of Forbes Diamond Award report was published. We are proud to be listed among the fastest-growing Polish enterprises in this prestigious report.
Contact us